The Chocoholics Guide to Chocolate
chocolate, chocolate chip cookies, Texas brownies, divine truffle brownies,
Mississippi mud cake, chocolate fudge cake, chocolate pecan pie, devil's food cake, rocky road candy, fantasy fudge, fudge frosting, German chocolate brownies,
German chocolate cake, nutty chocolate pie, chocolate sauce, hot fudge pudding cake, brownie bottom pie, black bottom pie, sweet chocolate pie, Hershey pie, chocolate cheesecake, hot fudge sauce,...

[Home] [Recipes] [Baking Basics] [Glossary] [Mailing List] [Kitchen Math] [Guest Book]
[History of Chocolate] [The Cocoa Story] [Links] [Theories]
Sweet Chocolate Pie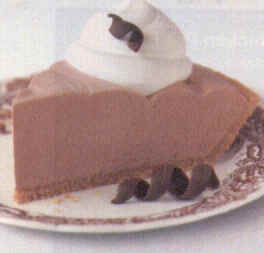 1 pkg. (4oz) sweet baking chocolate
1/3 cup milk, divided
4 oz cream cheese, softened
1 tub ( 12oz) whipped topping, thawed
1 prepared graham cracker crust
Microwave chocolate & 2 tbsp. of milk in large microwaveable bowl on HIGH 1 ½ to 2 minutes
or until chocolate is almost melted, stirring halfway through heating time.
Stir until chocolate is completely melted.
Beat in cream cheese, sugar & remaining milk with wire whisk until blended.
Refrigerate 10 minutes.
Gently stir in 3 ½ cups of the whipped topping until smooth.
Spoon into crust.
Freeze 4 hours.
Let stand at room temperature15 minutes before cutting pie.
Serve with remaining whipped topping.
Store pie in freezer.