The Chocoholics Guide to Chocolate
chocolate, chocolate chip cookies, Texas brownies, divine truffle brownies,
Mississippi mud cake, chocolate fudge cake, chocolate pecan pie, devil's food cake, rocky road candy, fantasy fudge, fudge frosting, German chocolate brownies,
German chocolate cake, nutty chocolate pie, chocolate sauce, hot fudge pudding cake, brownie bottom pie, black bottom pie, sweet chocolate pie, Hershey pie, chocolate cheesecake, hot fudge sauce,...

[Home] [Recipes] [Baking Basics] [Glossary] [Mailing List] [Kitchen Math] [Guest Book]
[History of Chocolate] [The Cocoa Story] [Links] [Theories]

Magic Cookie Bars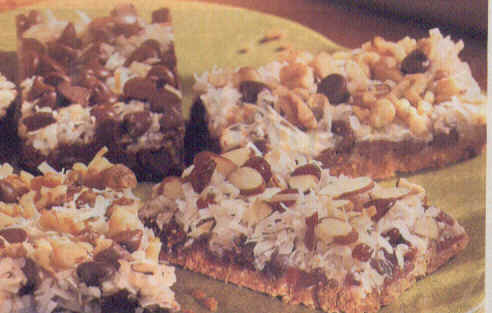 | | |
| --- | --- |
| ½ cup butter | 1½ cups graham cracker crumbs |
| 1 (14 oz) can sweetened condensed milk | 2 cups semi-sweet chocolate chips |
| 1 1/3 cups coconut | 1 cup pecans |
Preheat oven to 350º (325º for glass)
In 13 x 9- inch baking pan, melt butter in oven
Sprinkle cracker crumbs over butter; pour condensed milk evenly over crumbs.
Top with remaining ingredients; press down firmly with fork.
Bake 25 minutes or until lightly browned.
Cool. Chill if desired.
Cut into bars . Store covered at room temperature.