The Chocoholics Guide to Chocolate
chocolate, chocolate chip cookies, Texas brownies, divine truffle brownies,
Mississippi mud cake, chocolate fudge cake, chocolate pecan pie, devil's food cake, rocky road candy, fantasy fudge, fudge frosting, German chocolate brownies,
German chocolate cake, nutty chocolate pie, chocolate sauce, hot fudge pudding cake, brownie bottom pie, black bottom pie, sweet chocolate pie, Hershey pie, chocolate cheesecake, hot fudge sauce,...

[Home] [Recipes] [Baking Basics] [Glossary] [Mailing List] [Kitchen Math] [Guest Book]
[History of Chocolate] [The Cocoa Story] [Links] [Theories]

Fudgy Brownies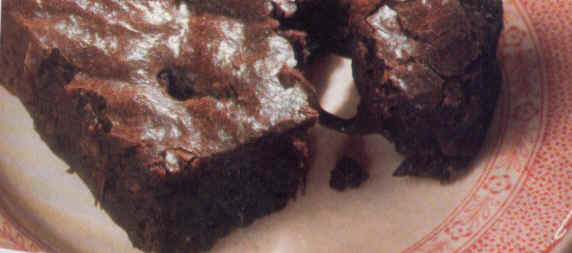 | | |
| --- | --- |
| 1 ½ cups sugar | 2 eggs |
| ¼ cup butter | 2 tbsp. water |
| 1 tsp. vanilla | 1¼ flour |
| ½ cup cocoa | 1 tsp. baking powder |
| dash of salt | ¾ cup semi-sweet chocolate chips |
Combine sugar, eggs, butter, water & vanilla mix well.
Combine flour, cocoa, baking powder, & salt; add to sugar mixture, stirring well.
Stir in chocolate chips.
Spoon batter into 9-inch square pan coated with cooking spray.
Bake at 325º for 30 minutes.
Remove from oven & let cool on wire rack.