The Chocoholics Guide to Chocolate
chocolate, chocolate chip cookies, Texas brownies, divine truffle brownies,
Mississippi mud cake, chocolate fudge cake, chocolate pecan pie, devil's food cake, rocky road candy, fantasy fudge, fudge frosting, German chocolate brownies,brownie bottom pie, German chocolate cake, nutty chocolate pie, chocolate sauce, hot fudge pudding cake, black bottom pie, sweet chocolate pie, Hershey pie, chocolate cheesecake, hot fudge sauce,...

[Home] [Recipes] [Baking Basics] [Glossary] [Mailing List] [Kitchen Math] [Guest Book]
[History of Chocolate] [The Cocoa Story] [Links] [Theories]
Chocolate Fudge Cake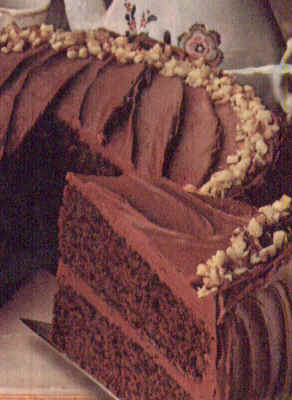 4 sq. Baker's unsweetened chocolate
1/2 cup each hot water and sugar
1 tsp. vanilla
1 3/4 cups flour
1 tsp. each baking soda & salt
1/2 cup butter
1 1/4 cups sugar
3 eggs
3/4 cup milk
Heat chocolate with water over very low heat, stirring until mixture is smooth.
Add 1/2 cup sugar; cook and stir 2 minutes longer. Cool to lukewarm.
Add vanilla.
Sift flour, soda & salt.
Cream butter, gradually add the sugar, continue beating until fluffy.
Beat eggs into mixture one at a time ,beating well after each addition until smooth.
Blend in chocolate mixture.
Pour into 2 greased & floured 9 inch round layer pans.
Bake at 350º for 30 to 35 minutes or until cake tests done.
Cool 10 minutes; remove from pans ans cool on wire racks completely.
Fill and frost with classic fudge frosting.
Classic Fudge Frosting
| | |
| --- | --- |
| 4 sq. Baker's unsweetened chocolate | 2 tbsp. butter |
| 4 cups unsifted confectioners sugar | dash of salt |
| 1/2 cup milk | 1 tsp. vanilla |
Melt the chocolate nad butter over very low heat.
Combine the sugar, salt, milk and vanilla.
Add chocolate mixture, blending well.
Let stand, if necessary, until of spreading consistency.
Spread quickly, adding milk in small amounts if frosting thickens.