Mississippi Mud Cake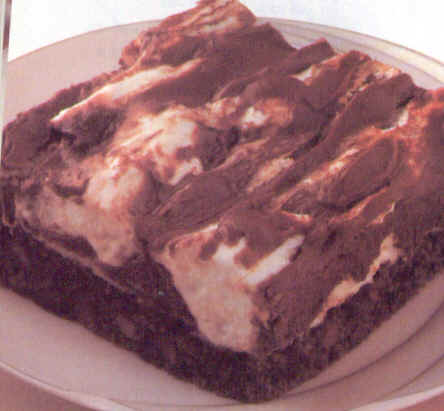 ½ Cup butter
1 cup sugar
1 tsp. vanilla
3 eggs
¾ cup all-purpose flour
1/3 cup cocoa
½ tsp. baking powder
dash of salt
1 cup chopped pecans
1 pkg.(10 ½ oz) miniature marshmallows
one bowl butter cream frosting (recipe follows)
Heat oven to 350º. Grease 13 x 9 x 2 inch baking pan.
In large mixing bowl cream butter, sugar and vanilla until light and fluffy.
Add eggs, one at a time, beating well after each.
Combine flour, cocoa, baking powder and salt; add to creamed mixture.
Stir in pecans. Spoon batter into prepared pan.
Bake 15 to 18 minutes or until top is batrely soft to the touch.
Meanwhile, prepare frosting. Remove cake from oven;
immediately place marshmallows over top.
Return cake to oven for 2 to 3 minurtes or until marshmallows are soft.
Gently spread marshmallows over cake;
immediately spread frosting over top.
Cool thoroughly on wire rack before cutting cake into squares.


One Bowl Buttercream Frosting
| | |
| --- | --- |
| 6 tbsp. butter, softened | Cocoa |
| 2 2/3 cup confectioners sugar | 1/3 cup for light flavor |
| 1/3 cup milk | 1/2 cup for medium flavor |
| 1 tsp. vanilla | 3/4 cup for dark flavor |
In small mixing bowl cream butter.
Blend in cocoa and confectioners sugar alternately with milk;
beat to spreading consistency (additional milk may be needed).
Blend in vanilla.