The Chocoholics Guide to Chocolate
chocolate, chocolate chip cookies, Texas brownies, divine truffle brownies,
Mississippi mud cake, chocolate fudge cake, chocolate pecan pie, devil's food cake, rocky road candy, fantasy fudge, fudge frosting, German chocolate brownies,
German chocolate cake, nutty chocolate pie, chocolate sauce, hot fudge pudding cake, brownie bottom pie, black bottom pie, sweet chocolate pie, Hershey pie, chocolate cheesecake, hot fudge sauce,...

[Home] [Recipes] [Baking Basics] [Glossary] [Mailing List] [Kitchen Math] [Guest Book]
[History of Chocolate] [The Cocoa Story] [Links] [Theories]
Hot Fudge Pudding Cake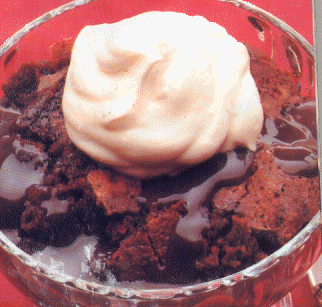 | | |
| --- | --- |
| 1 ¼ cups granulated sugar, divided | 1 cup flour |
| ½ cup cocoa | 2 tsp. baking powder |
| ¼ tsp.salt | ½ milk |
| 1/3 cup butter, melted | 1 ½ tsp. vanilla |
| ½ cup packed brown sugar | 1 ¼ cups hot water |
Heat oven to 350º.
In medium bowl combine ¾ granulated sugar, flour, 3 tbsp. cocoa, baking powder & salt.
Blend in milk, butter & vanilla, beat until smooth.
Pour batter into 8- or 9- inch square baking pan.
In small bowl combine remaining sugar, brown sugar & remaining cocoa; sprinkle mixture evenly over batter.
Pour water over top; Do Not Stir.
Bake 35 to 40 minutes or until center is almost set.
Let stand 15 minutes; spoon into dessert dishes, spooning sauce from bottom of pan over top.
Serve with ice cream .
This dessert makes its own hot fudge sauce & is wonderful with vanilla ice cream.