The Chocoholics Guide to Chocolate
chocolate, chocolate chip cookies, Texas brownies, divine truffle brownies,
Mississippi mud cake, chocolate fudge cake, chocolate pecan pie, devil's food cake, rocky road candy, fantasy fudge, fudge frosting, German chocolate brownies,brownie bottom pie, German chocolate cake, nutty chocolate pie, chocolate sauce, hot fudge pudding cake, black bottom pie, sweet chocolate pie, Hershey pie, chocolate cheesecake, hot fudge sauce,...

[Home] [Recipes] [Baking Basics] [Glossary] [Mailing List] [Kitchen Math] [Guest Book]
[History of Chocolate] [The Cocoa Story] [Links] [Theories]
German Chocolate Cake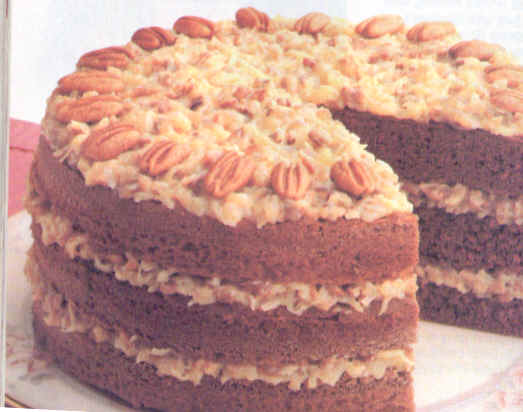 | | |
| --- | --- |
| ¼ cocoa | ½ cup boiling water |
| 1 cup plus 3 tbsp. butter | 2 ¼ cups sugar |
| 1 tsp. vanilla | 4 eggs |
| 2 cups flour | 1 tsp. baking soda |
| ½ tsp. salt | 1 cup buttermilk |
| Coconut Pecan Frosting (recipe follows) | Pecan halves |
In small bowl combine cocoa & water; stir until smooth. Set aside to cool.
Heat oven to 350º. Grease three 9 inch round baking pans; line with wax paper.
In large mixing bowl cream butter.
Add sugar & vanilla; beat until light and fluffy.
Add eggs, one at a time, beating well after each addtition.
Combine flour, baking soda and salt; add alternately with chocolate mixture& buttermilk to creamed mixture
Mix only until smooth.
Pour batter into prepared pans.
Bake 25 to 30 minutes or until top springs back when touched lightly in center.
Cool 5 minutes; remove from pans and peel off paper.
Cool completely.
Spread coconut pecan frosting between layers and over top.
Garnish with pecan halves, if desired.
Cover; refrigerate frosted cake.
Coconut Pecan Frosting
| | |
| --- | --- |
| 1 can ( 14 oz) sweetened condensed milk | 3 egg yolks, beatened |
| ½ cup butter | 1 tsp. vanilla |
| 1 1/3 cups flaked coconut | 1 cup chopped pecans |
.
In heavy 2 quart saucepan combine condensed milk, egg yolks and butter.
Cook, stirring constantly, over medium heat until mixture is thickened and bubbly, about 10 minutes.
Remove from heat; stir in vanilla, coconut and pecans.
Cool 15 minutes.